Studio PENGUIN is an open space studio perfect for all your video productions and shootings. For your commercial shoots or your corporate videos, this white open space provides a one of a kind experience. Easily welcome all of your team members and guests with our furnished kitchen and our lounging area.
Benefit from our open space studio easily accessible by public transportation in Hochelaga-Maisonneuve's neighborhood. There is plenty of coffeeshops, bakeries and restaurants within walking distance.
Price List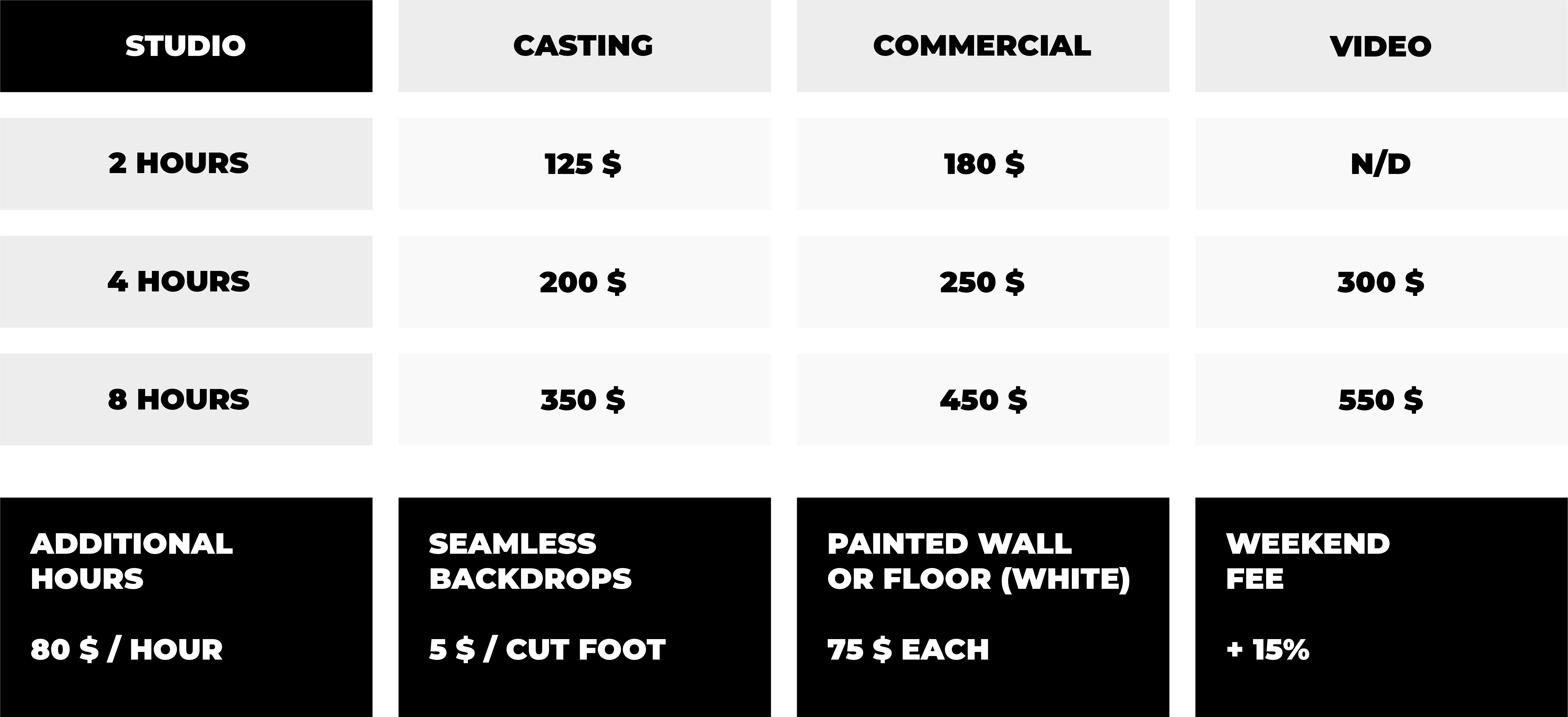 Because of the new sanitary norms, many aspects of our work have changed. This is why we put in place different measures like the disinfection and the deep cleaning of the studio space before and after every use. Therefore, fees of 90$ for a rental of 2 to 4 hours and 150$ for the full day have been added to the regular rental fees. These measures are in place to ensure that you work in the safest environment possible.
Moreover, from Monday July 13th 2020, the wear of a face mask will be obligatory for everybody that works in the studio space. For more details on the other Covid measures that we out in place, follow this link: HTTPS://WEAREPENGUIN.COM/2020/06/22/NOS-MESURES-COVID-19-LIGNES-DIRECTRICES/
Photography Equipment
2 X ALIEN BEES B800
2 X FLASH TRIPOD
2 X DIFFUSER (?)
SYNCH CABLE
SYNCH CUBE FOR NIKON OR CANON
WIRELESS SYSTEM (+20$)
COMPUTER (+30$)
Video Equipment
1 X LUMAHAWK 1024W BI-COLOR
3200K-5600K
1 X LUMAHAWK 640W CIRCULAR
5600K
1 X DIFFUSER OCTOBOX
FOR LMHK 640W
2X FLASH TRIPODS